My Dad finally succumbed and ordered himself an iPad! Not that he can get it away from Sam very often!
So I decided to make him a nice padded quilted bag.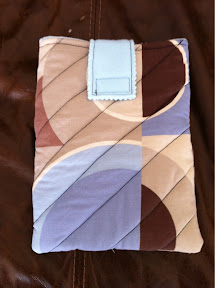 Unfortunately I was working from my own measurements and not a pattern or tutorial and I forgot to take into account the depth of the iPad and the fact that I needed to allow room for the wadding. Oops!
The good news is that it made a perfect case to hold mum's kindle in it's leather book case and her light so they all stay together. Need to go make another case for dad now!
- Posted using BlogPress from my iPhone