My scrap box is overflowing! It has pieces in there of varying sizes and types and is a complete jumbled mess. So my goal is to tame the scraps. My plan of action is:
1. Cut out a collection of 3 inch, 2.5 inch and 2 inch squares and sort them into drawers in my organiser.
This is the one I use with 2 sizes per drawer divided using ziploc bags. It's a little big when you're just dealing with little squares but once you start joining them together they quickly grow so it's perfect.
Available from Amazon
here
2. Cut out a collection of 2.5 inch and 2 inch strips. Any 2.5 inch strips that are 16 inches or longer go in my scrappy trip around the world bag and the rest of the strips go in the drawers.
3. Use the squares as leaders and enders and the strips for scrappy bindings. Don't know what leaders and enders are?
Here
is a link to the wonderful Bonnie Hunter which explains what they are.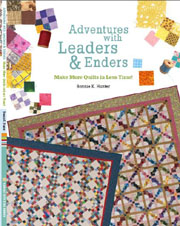 Bonnie has written a whole book on how to create wonderful quilts using this technique while sewing other projects. The book can be ordered directly from her on the link above.