I had this custom order off an old school friend to make for her mum for mothers day (this weekend just gone in UK)
We wanted to do it in 2 shades of red to match her mum's living room but the microfibre fleece she wanted is really hard to come by locally so we compromised with red and black.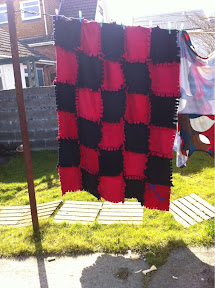 I'd never made one before so I'm really pleased with how well it came out and hopefully her mum loved it. I finished it a few weeks ago but didn't post till now as it's only fair she's the first person to see it.
She wanted 'mam' appliquéd on the corner square and I thought the purple added a certain something.
Here it is all wrapped up ready to go to it's new home with a complimentary mothers day cookie pop.
Unfortunately my fried Emma who ordered it will only get to see it in pictures because as her mum lives locally and her sister picked it up and delivered it Emma upped and left us all after we left school and is now living in Canada! I did try to convince her to come get it personally but sadly she was having none of it!! Lol
Posted using BlogPress from my iPhone