It's St David's Day Tuesday (patron St of Wales) and I made Sammy a lush new outfit!
I found this lovely Welsh flag material and a pack of 3 White polo shirts for £3. I used an old waistcoat of Sam's that was a bit too short as a pattern (I took some photos for a mini tutorial) and made it slightly longer. It's appliquéd on as a fake waistcoat and then I put two fake button holes and 2 lovely little sheep buttons.
Then I also made two baby onesies for my 'shop' with fake ties appliqué.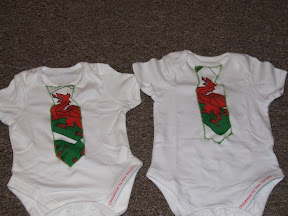 Aren't they adorable!!
Posted using BlogPress from my iPhone