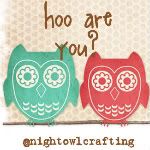 1. What is your favorite part of the holiday season?
I love gift giving and seeing the looks on people's faces when they see what I've bought or made them. And of course all the food!!! And its an added bonus that hubby is off work for 2 weeks so I get to catch up on some sleep which helps with the inevitable Fibro/ME flare from doing too much in the run up.
2. What is your least favorite part of the holiday season?
spending time with certain members of hubby's family!!!! :-)
3. Do you bake goodies during the holidays? If so do you eat them, give them away or both?
The last 2 or 3 years I've started baking and I bake both for us and to give away. This year I took over my elderly grandmother's role of baking the Christmas cakes so that was 4 plus 2 for friends. I then made buckeye balls for my dad and gingerbread men for assorted people and sam's teachers/school workers.
4. Are you already for Christmas?
As per usual all the gifts were bought by end of October apart from a few stocking fillers. I did leave the gift making a bit late this year as my Fibro/ME has been very bad and so it has taken me longer. We are away for Christmas itself so don't need to worry about food.
5. What activities do you do on Christmas day?
This year we are away to the sun so it will be sunbathing and sandcastle building!!! Normally it is present opening in the morning than a chilled out day of christmas films on the tv and eating.